Shetland Pony Hoof Boots
Mcleod Creek Easter aka Radar is an 8 yr old Canadian registered Traditional Shetland. He is 40″ tall, has the biggest heart and never refuses a new adventure, says his team mate, Bridget Simon. Bridget and Radar live in Alberta, Canada and regularly compete in Combined Driving Events, Pace Events and Marathons.
Bridget searched for three years to find boots suitable for Radar. As a team, they like to take things to the limit and often drive in terrain where most quads won't even go. So they needed a boot that was going not only be comfortable but also fit well enough so as not to come off no matter what they did with them.
Bridget and Radar tried an assortment of different makes and designs without much success, however they finally found the Equine Fusion All Terrain boots and their search was over.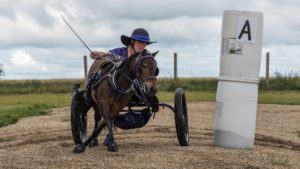 In their first year, they really put the set of four boots to the test: gravel; sand; rocks; grass; water; and pavement, they did it all. Bridget was so happy as the boots did not twist or come off and Radar loved how comfortable they were, giving him confidence over all types of terrain.
When winter approached Bridget purchased another complete set of four All Terrain Jogging Shoes and this time also bought the stud kit. This enabled them to drive throughout the winter, even on glare ice (see video below). Bridget said she had never felt secure to drive on ice as she does with the studs in the boots. They are even able to trot without slipping. They also use the studded boots when extra traction is needed on wet grass at CDEs.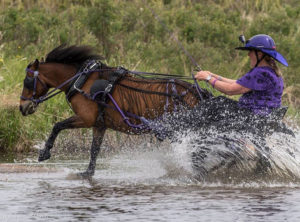 Some may think that the Jogging Shoes are expensive, but when you add up the costs of metal shoes and resets, they are actually more cost effective. Plus the boots help reduce concussion and give extra traction. Bridget was pleasantly surprised at the end of the season to find that the boots had very little wear, considering the miles they had put on them.
Below are a series of videos kindly shared by Bridget showcasing Radar in his All Terrain Jogging Shoes.


Putting them on is a breeze!

Team Radar checking out the property

4 Mile workout
Notice how confidently Radar strides out, even on hard gravel roads.

2017 Pace Event

Winter Wonderland – The All Terrain Jogging Shoes in the snow

Glare Ice
With the studs installed the All Terrains give amazing traction, even on sheet ice.

More photos of Team Radar, Shetland Pony extrodinaire!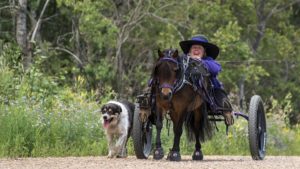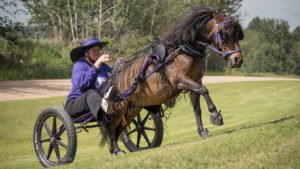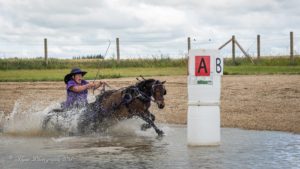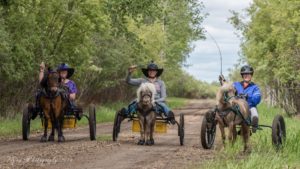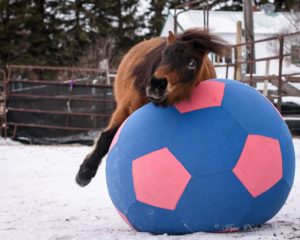 To see more of Team Radar's adventures check them out on Facebook