Testimonials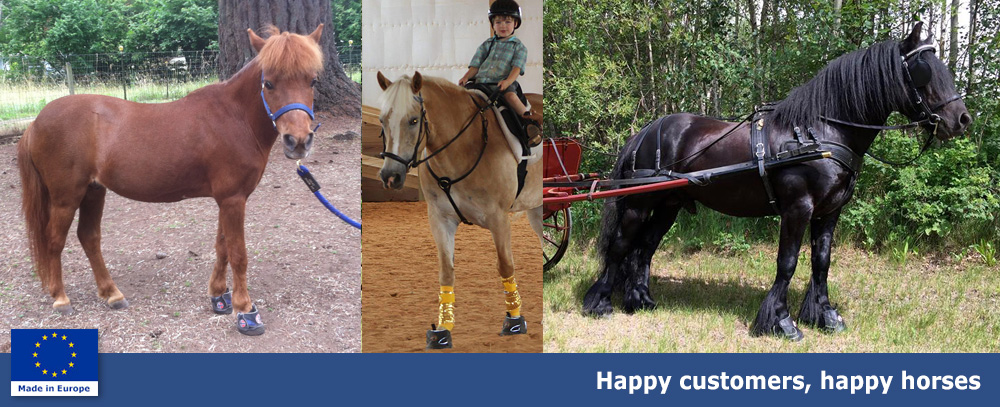 Equine Jogging Shoe Reviews
Below are some equine jogging shoe reviews from our customers: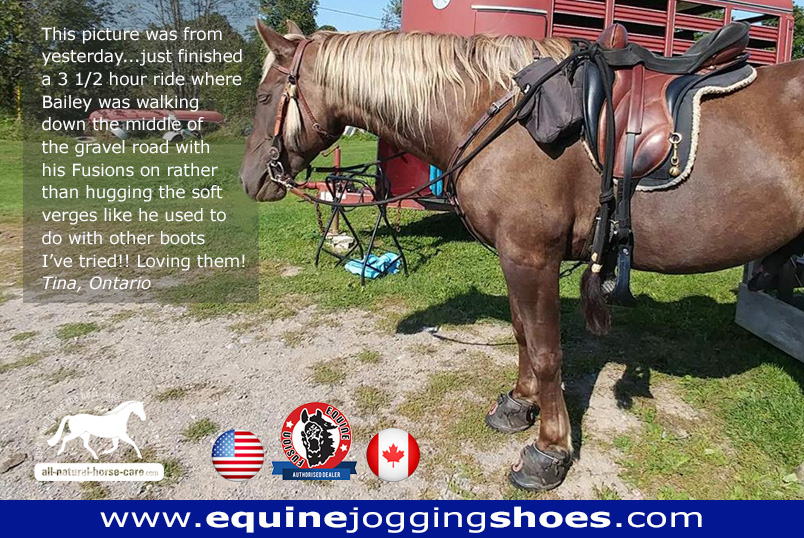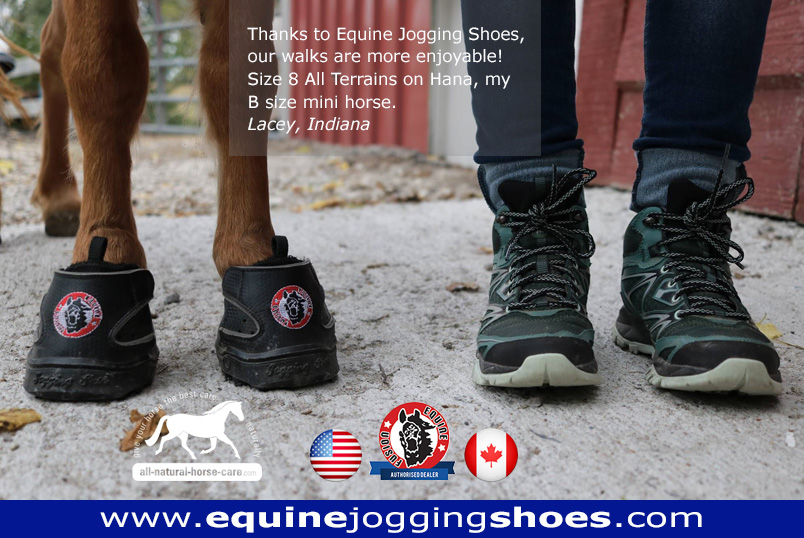 This is Pez, a QH mare that had previously fractured her navicular bone and was experiencing navicular syndrome (heel pain). She had been lame for quite a while before trying the All Terrain Ultras. This video shows the difference between the first day she wore them compared to nine days later after wearing them 23/7.
Here's what her owner said about her: "Last night she kicked my big qh gelding in the butt. She wanted that haynet and attempted to make him move. She's obviously feeling quite full of herself since she got the boots. She's a totally different horse now. Feisty and full of life 🙂 She's getting in the middle of things whereas before I think she knew she couldn't get out of the way or it hurt too much. Can't thank you enough for making her so comfortable and able to move freely and be naughty and saucy."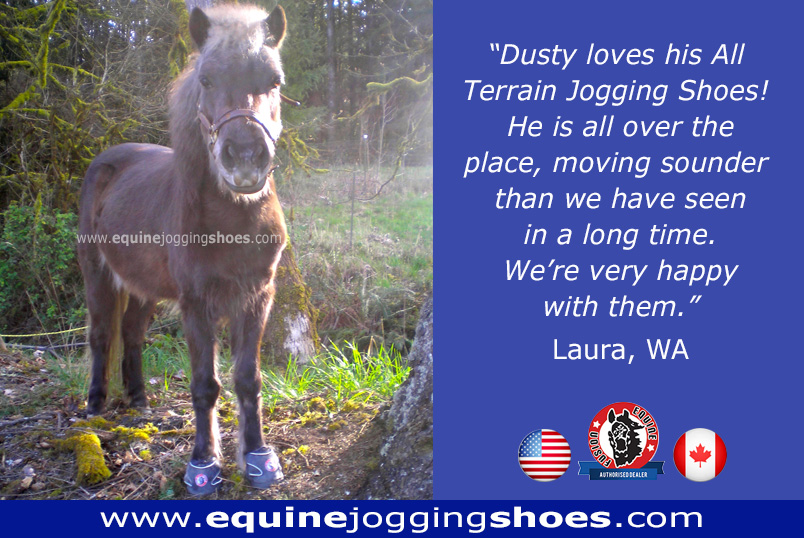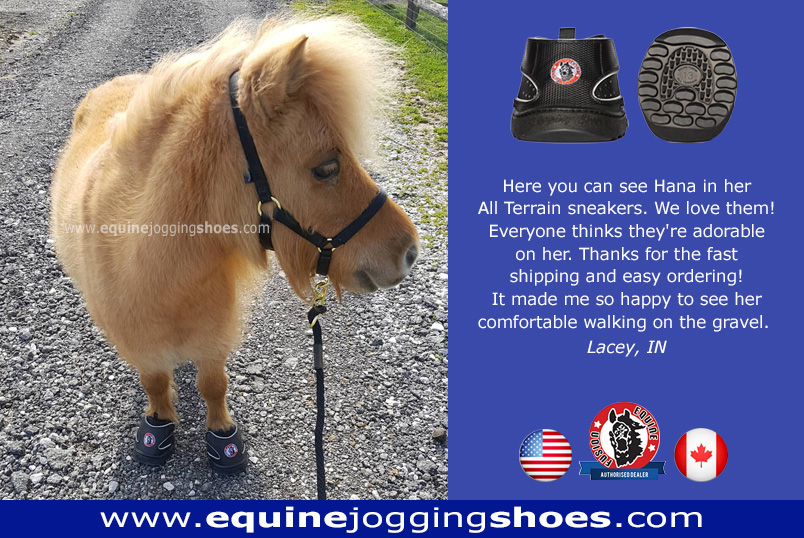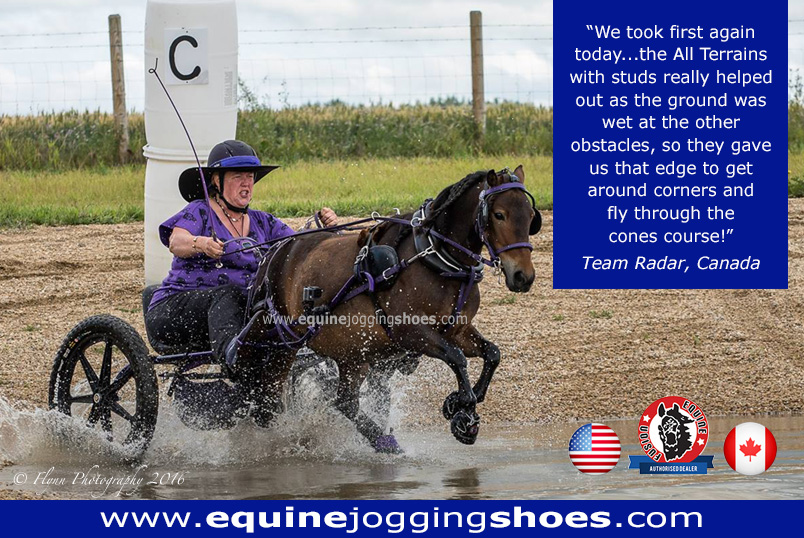 I also searched for 3 years to find boots for my pony. Radar and I take things to the limit. We drive in terrain which quads don't even go. We truly needed a boot that was going to first off, be comfortable. Then the fit.
We had tried an assortment of different makes and designs, but when we found the Equine Fusion All Terrain boots are search was over.
Our first year we put the set of 4 boots to the test. Gravel, sand, rocks, grass, water, pavement . We did it all.The boots never twisted or flipped off. So with winter approaching, we purchased another complete set of 4 with the studs. I have never felt secure to drive on ice as I do with the studs in the boots. We even trot. No slipping.
Some may think that they are expensive, but just add up all the shoes and resets.
I was pleasantly surprised at the end of the season to find that my boots, had very little wear, considering the miles we put on.
So to sum things up, yes we love the Equine Fusion All Terrain Boots. We even have a front set in the trailer all the time.
Team Radar, Canada
Best boot, ever!
I am very impressed with my 2 pairs of Equine Fusion Jogging Shoes. And here is why. Over the last 20 years I have used several different styles of horse hoof boots for several different reasons. It never occurred to me when I got my first mini, who is a 37″mare, Charlee, that her 3″ hooves would require the protection from the surfaces we were driving on. My little game mini could enjoy herself because her fusion sneakers give her so much protection. They do not twist or loosen up and pop off. Now I am hitching a pair and We have some bigger plans and Jack, my gelding will be getting his own 4 boots. I expect these boots will outlive us. Easy to care for, easy to put on no rubs no debris inside boot. I contend that these are the best boot ever!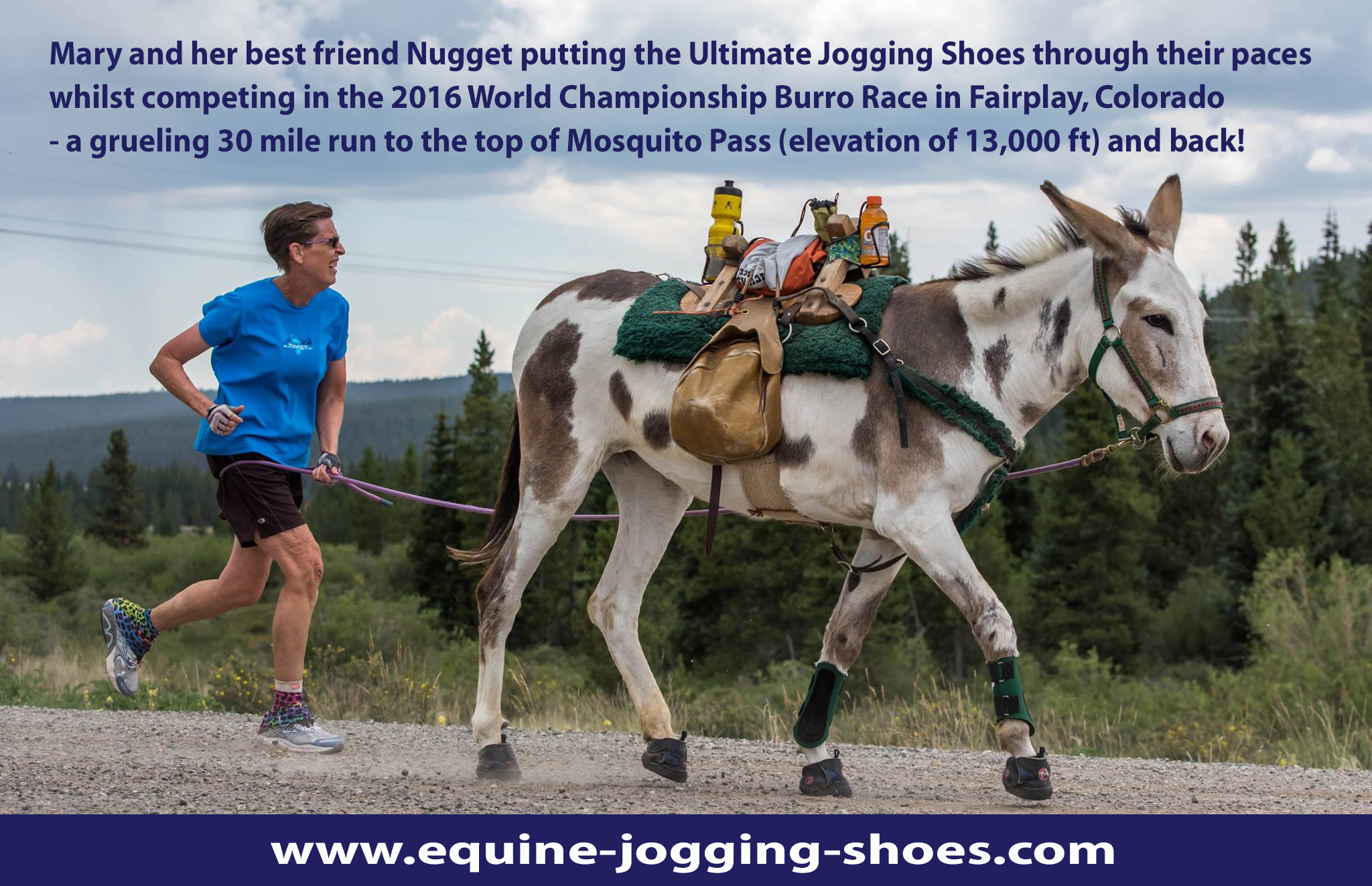 Mary says, "I've put over 200 miles on this set of Ultimates…pavement, trails, rocks, creek crossings, mud, you name it. The boots are a tricky fit for a donkey because the hoof is so narrow, but they worked well for us".
I have a new horse!
Oh my gosh Jenny!!! I have a new horse! I can tell he's even happier now that he's got these boots. I've had easy boots on him but he still acted like he was in pain and he'd lose them in the paddock and pasture all the time. I'm am almost shedding tears of joy over this, heck, I actually have been :o) It is so awesome to have my boy back!
He had been walking so gingerly with his head hanging low and he just didn't seem himself. We put the boots on for the first time last night and we purposely walked on every surface that he's been unable to walk on like concrete, gravel, rocks, hardened clay, you name it and the more he walked on these surfaces and realized that hey, this doesn't hurt me anymore, the more he raised his head up and by the end of it all he was trotting around on them like nobody's business. It was fantastic!!!!
Lisa, ND
Wonderful product!
Jenny, I wanted to reach out to you and let you know how the Ultra Jogging Shoes are working for my 30 year old mare Classy. With her age, Classy has several medical issues including the acute arthritis in her right knee that won't allow the farrier to shoe her comfortably any more due to the loss of backward flexion and resulting pain in that knee. With the shoes, we can get them on and off of her with her hooves very close to the ground. The farrier comes out on a regular basis to trim her hooves which he can do close to the ground also. Classy wears the shoes during outside turnout and the shoes are taken off when she is in the barn for the day. Ever since she has been wearing the Ultra Jogging Shoes she has been brighter, has more interest in her food, is moving very comfortably in the field to include trotting and cantering, she is normally now first at the gate to come in in the morning, and since she is often allowed to walk into the barn and her stall by herself, we now need to catch her before she trots down to greet the stallion at his stall. The shoes are very easy to clean, either hosing them down and letting them sun dry, or doing a brush cleaning.
Thank you "All Natural Horse Care" for having this wonderful product. It has given a new lease on life for my mare Classy. FYI, I have also recommended your product to my veterinary, farrier, and friends who have horses.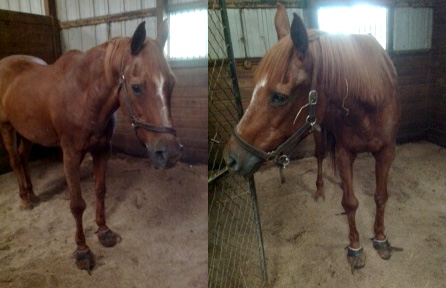 Here are two photos of Classy with her Ultra Jogging Boots on in her stall after being out all night. You can see how bright her eyes are and how comfortably she stands in the jogging boots even with her arthritic right knee. In the second photo she thought she would be able to escape from her stall and was quite disappointed when I was there to stop her and take her picture. The jogging boots may look dirty from her being outside all night but when I take them off her there will be negligible debris inside the boot. We are all pleasantly amazed by this and that they fit her so well that there has been no rotation of the boots on her hooves.
Thanks again for the jogging boots giving her a better quality of life. She certainly looks younger than her 30 years of age.
You can use the text of my emails and Classy's photos in your testimonials.
Have a wonderful day – Angela, Virginia, USA.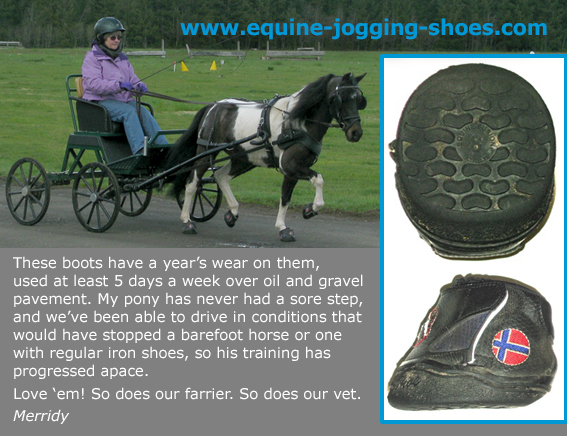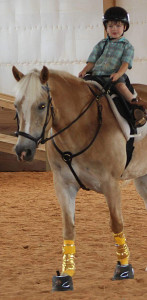 The customer service is excellent!
Our 8 yr old Haflinger therapy mare despite being on hoof supplements has terrible hoof quality and even cuffed glue on shoes (@200/ pr) wouldn't stay on more then 3 wks. She works 5 days a wk but her hoof issues and sore feet actually had her confined to a stall and not able to be used in lessons. The Equine Jogging Shoes have made such a diffence! She wears the boots working and for turn out and is so happy to have comfortable feet that she actually holds her hooves up and helps put the boots on! They are easy to use and our program volunteers can even easily put these on compared to other more complicated types of boots. The customer service is excellent. Couldn't be more satisfied – what a great product and company. Thank you!
Patience, PA


The best boots on the market
I took my horse on a 2 hour trail ride saturday. We went through every condition that could potentially cause problems: deep water, thick mud, slippery granite rock, leaves, pine needles, thick brush, fast flowing water, sticky clay, tarry mud, etc. My horse absolutely performed better than she every has with the All Terrains on the front. No problems, they stayed on and there was no evidence of rubbing anywhere the boot came into contact with when I removed them.
They are designed with lots of thought, quality is excellent and their function sensational.
There are a lot of boots out there as you know, and everyone I have ever talked to about riding boots never really know what to get. But now I know and I am so glad. Obviously, to me, this is the boot to get!! I have lots of friends and fellow competitors in the eventing, dressage and stadium jumping world. I also know and have been trained by many olympic level riders. I will be sure to spread the good news about these boots. These are the best boots on the market. Absolutely without any doubt!!
Thanks so much.
Dr. George
I absolutely love the All Terrain Boots
I just wanted to let you know that I absolutely love the All Terrain Boots I bought for my mare!!! They are incredibly easy to put on and take off, and no more ouchies for her when walking on stones! I also love how light weight and flexible they are. I have tried several of the brands out there and they don't come close to being as nice as the Jogging Shoe!
Laura, Conneticut
Simply the best
I live in the Sonora Desert in Arizona. I have been using these boots (ULTRA) only and they are simply the best. I have tried many other boots from different manufacturers with less than satisfactorily results. The horses take to the ULTRA immediately, make heel-first landings, and are, in my opinion, the perfect supplement to barefooted horses. I trim my own horses, using the wild mustang of the Great Basin as a model, and as extolled by Jaime Jackson. I know that this model works as ALL my horses have incredibly improved circulation in the fore and hind limbs. Why can I claim this? Simple, the legs drain excess fluid in joint capsules, tendon sheaths, etc., not seen before. The legs have become super thin and "dry" AND they move easier and more fluid. The boots do NOT interfere with these improved gaits (as given in the first place by their genetic code) and are a tremendous aid in re-establishing a horse to a sound foot again. In addition, the horses are ridden on an almost daily basis on some of the toughest terrain nature can throw at one. The boots allow for better shock absorption, heel-first landings, and do not overstress ligament structures due to their tough but givingdesign features.
Good and natural riding technique and gear, horse appropriate nutrition, AND these boots are the perfect synergy for a happy and healthy horse and, of course, rider and caretaker.
Thank you, Jenny.
Michael, Arizona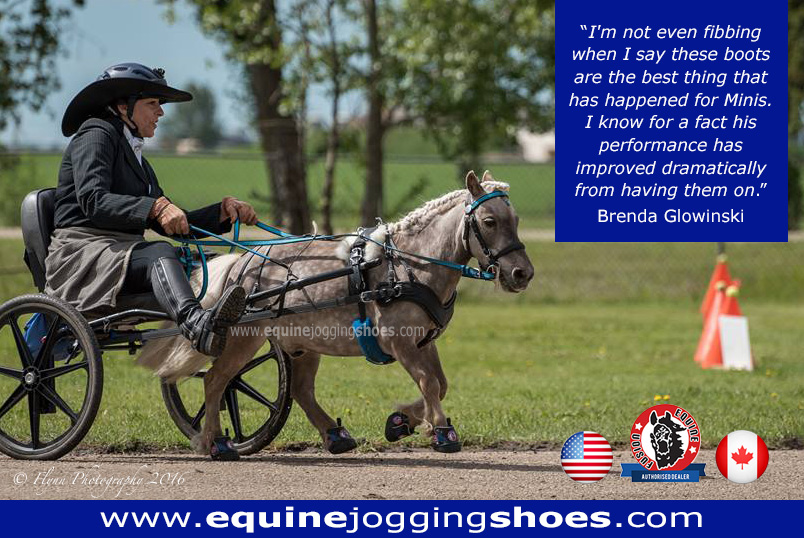 I searched for almost 3 years to find a hoof boots that would fit my 30″ tall miniature horse. All I could find was cutsie boots that were good for the occasional walk "in hand" on surfaces that might be slippery for a horse, like a hospital visit for therapy horses or similar scenarios.
I was even told to try some boots from the "Build a Bear" store – super cute but not long wearing.
I needed a true performance boot, like what a regular sized horse would need, to hold up to the rigors of Real Work, not just to add to a costume or that would last for a single use only.
I found Equine Fusion Jogging Shoes online and realized that these were exactly what I was looking for! They were literally the ONLY true oerformance boot that would fit my wee horse. The only problem was that they would be coming from Norway and we're going to cost so much $$$ in shipping – sigh -. I ended up waiting another 2 years before I'd had ENOUGH and was willing to pay ANYTHING for the boots!!! A friend of mine had bought some and she kept telling me I had to get some. I bit the bullet and got back on line.
Lo and behold there was a North American Supplier now!!! I ordered my boots and LOVED them soooooooo much, but more importantly, my horse, Ricco Suavé loved them too!
I talked with Jenny, the North American Supplier and she was AWESOME. I got the boots very quickly and she was so helpful – and went above and beyond to make sure I got the right size.
I put miles and miles on my boots on all types of footing, like cement, black top, gravel, grass, mud, sand, and water (sometimes all in the same drive lol) – and the treads still look like new after 2 summers of going thru the grinder! I have even installed the stud Kit for the icey conditions, and they worked flawlessly, preventing my horse from slipping at all.
They don't rub, even after being used for hours at a time, in sand, water and mud. They even have a velcro cleaning brush so that my velcro can be cleaned, preventing the boots ever falling off.
I have been so impressed with the technology in these boots, and all the other features, that I am now a Drop Shipper for Jenny!
The Equine Fusion Jogging Shoes checks off all the boxes for everything that a hoof boots should be – and I recomend them to everyone!!
Thanks for everything Jenny!!
Brenda Glowinski, Canada
Deep mud – no problem!
I can't thank you enough for your wonderful customer service. I truly appreciate your quick shipping and the pads that you threw in. I do have a herd of OTTB/TB's with soft feet, product of all the mud of NYS. I am wondering how to become a dealer as I am truly impressed with these jogging shoes. I have to say I had two Renegade's in the front and the Performance shoes behind on my TB. My sister's OTTB had all Renegade's on. This is what made me a true believer: We galloped through a deep mud patch. The Renegades went flying everywhere and the Performance shoes stayed right on. We also put the Performance shoes on our crippled foundered mare. The mare is now galloping. She is so much more comfortable because of these shoes.
I want to thank you again for everything you have done.
Sincerely, MaryAnne
Thank you, thank you, thank you!
Jenny!
THANK YOU THANK YOU THANK YOU!!!!!!!!!
The video was wonderful, and I truly appreciate the time and effort you put into answering my questions. Once I got on YouTube, I found several more videos of the Fusion, and now yours is included there, too! VERY helpful!
I really look forward to my ride tomorrow. Though there never is a bad day riding, some are better knowing that my horse will be comfortable and I will have an EASY time putting on those boots!
I have a friend who will be VERY interested in these, too; she's been searching for a long time for a solution for her horse. I'm betting Fusions are the answer.
Thank you AGAIN!!
Ginny
My Horse Absolutely Loves Them
Just received my equine jogging shoes last night and all I can say is…. WOW! I absolutely LOVE them! When I put them on my horse and took her out in the ring to ride, she was at first a little skeptical that the hard ground wasnt going to hurt when I asked her to move out, but once she realized her Equine Jogging Shoes would protect her feet, she was back to being herself.
My trainer couldn't believe the difference the shoes made, and how well they were constructed!
I will highly recommend these to every horse person I know. What a great product! Normally we would be riding indoors this time of year but we have had an unusual season so far, in that we have had no snow but the ground is frozen. Once the ground froze I couldnt ride her outside any longer, then the Equine Jogging Shoes came and I am so happy I can ride my horse outside again!
Thank you so much for all your help and for such a great product!
Christine, Massachusetts, US
I am so happy I gave this boot a try
Well I am thinking the boots are a success and sold!
I got a chance to try my friends cavallos this weekend as I was also putting the jogging boots thorough their official test run. With the cavallos Venus simply refused to move much and kept picking her feet up and couldn't settle even at a stand still… plus with her medial to lateral imbalance the boot didn't fit very well even though it was the correct size.
With the jogging boots she acted like she had nothing on and they formed to her! This is a very sensitive and opinionated horse and she didn't bat an eye at the equine fusions. She was able to walk comfortably on the concrete, go on to arena surface and play on line in the deep snow with no issue. She also gave me lovely heel first landings and showed she was quite comfortable to perform in these boots.
I like that the boot flexes and has that natural concave shape to promote her hoof function.. THIS IS THE WHOLE POINT! and why she is in a hoof rehab in the first place to get back those natural mechanics. I do like the look of the boot and that it is forgiving on the fit compared to most very hard material boots. I'd say I wouldn't put a foot bigger than hers in this boot… a bit bigger and she wouldn't fit, but after looking and looking it really seemed she fit in them pretty perfect.
The boot closes up nice and had no rubbing or anything after 2 hours of some riding and ground work this weekend.
I play in fields, do arena demos or am in a paddock on varying arena surfaces and get onto some concrete getting place to place. I also do some jumping and loads of natural horsemanship and natural dressage so I think for our needs these boots fit the bill on the performance! Again the flexibility in the boot is really great for the high level maneuvers that she is capable of.
Thanks for your patience and offering this product and on the trial basis. I would not have been confident enough to purchase the boots outright due to their price tag, the trial was perfect!
Nikole, Omaha, US
Best grip in the snow
Very good grip in the snow…the Ultra have the best grip we ever had with hoofshoes and because of the flexible sole the snow can't build up underneath.
Manu Volk
My Horses LOOOOVVVEEE these boots!
I LOVE these boots and more importantly my horses LOOOOVVVEEE these boots!
Tina, New Zealand
Easy to apply and secure
Overall, I really like the Fusions. So far they have been relatively easy to apply and remove and my horse moves comfortably and securely in them on all types of footing.
Jessica, Ohio, US
My farrier and vet think they are great
I put them on my foundered mare everyday for turnout as her sole is very flat. They are easy to take off and put on, no rubbing and lightweight. They wash up very nicely in the washing machine. They have helped my mare be so much more comfortable. I recommend to anyone in the market for a pair of boots for their horse. Both my farrier and vet think they are great. Thanks I am very pleased with the jogging shoes.
Roberta, Ontario, Canada
I love the joggers!
I recently put my mare in Epona shoes because she just wasn't transitioning well to barefoot after a year and a half. I don't nail the shoes on, I glue them and sometimes the glue fails. It is quick and easy to stick the shoe in the jogger and she is off and running! I have used them a lot! In fact, I think I will be ordering some more soon. They are versatile, tough and easy to use. They clean up well, dry quickly when they get wet and I have never, ever had one come off!
Rhonda, Indiana, US
Great for jumping
I'm very happy with the jogging shoes I purchased. I use them for jumping and indoor work. They are lightweight and they stay on, so they are great for jumping.
Elly, Montana, US
Fabulous, love them!
I have a horse that is quite sore footed due to navicular, thin soles, and stretched white line area. The boots have been fabulous. I use a pad inside to cushion his feet a bit more and he is able to walk out and about for around an hour and one half. I have tried Boas and custom Horse Sneakers but both these boots are clumsy, rub or bruise his foot. The jogging shoe is easy to put on, light weight, doesn't twist or rub. Love them.
Robin, Arizona, US
Stoney river bed
We use our Jogging boots mainly for riding in a stoney river bed, in and out of the water! Appie was pleasantly surprised the first time he wore them and the stones didnt hurt his feet! Could even have fun trotting! He seems to love them!
Julia, New Zealand
I love my EFs
I have 2 pairs now one for each horse. I used them on my mare for 1 year of hoof rehab. The great thing about the boot is that it is so light-weight and breathable so I can leave it on 24/7. Because it is so flexible I can add all types of pads and that feature really does make a huge difference to me. The boots still fit perfectly, even if I add a 1 cm thick pad. So far the only small damage to the shoes my mare has done herself, by biting a small hole on the top. This could easily be fixed and did not affect the shoe. I am a big fan of the EFs and I recommend them to anyone…
Tina, NW Indiana, US