100% Satisfaction Guarantee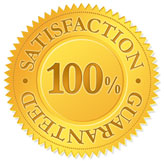 Let us take all the risk out of buying the equine jogging shoes via our "Money Back Guarantee". If you are not completely satisfied with the boots for any reason after trying them on your horse/pony for two, one hour rides* you can send them back for a full refund (minus actual cost of shipping and handling).
Please contact us within seven days after receiving your boots if you are not satisfied. Before returning the boots you must inform us via email. Returned shoes must be clean and undamaged with no visible wear to qualify for the full refund.
* Please note that you are responsible for the goods until they are returned to us, and must ensure you take reasonable care of them. With hoof boots in particular, it is your responsibility to evaluate the fit of your new product in a manner where you may return it in new condition if you have doubts about the fit. For example, if you think the boots are too small or too large only ride on a soft surface so as not to cause damage to the sole of the boots.
Any item purchased from us can be returned for a refund or exchange, provided you follow the procedure set out below:-
Email us within 7 days to inform us of the return.


 Return within 30 days using USPS (not a courier as they will charge you a brokerage fee) if in the US or Canada Post if in Canada.


 All goods must be clearly marked as a return/repair on the customs form to avoid incurring duty charges. You will be responsible for all customs charges if the form is not filled out correctly.


 Returned goods must be in an "as-new" condition (clean, with no visible signs of wear and in their original packaging).


 Please ensure the returned goods are adequately packaged to prevent damage in transit.


 When returning an item to us, the return postage will be at your expense. You are responsible for the goods until they are received by us, so we recommend that all returns are registered and insured when sent as we are unable to compensate for lost or damaged parcels. (If the item(s) sent to you is either faulty, or not what you ordered, we will cover the cost of postage for it's return.)
Once the item has been safely returned to us, we will refund your original payment method as soon as possible for the cost of the goods (please note this can take up to 7 days during very busy periods but we aim to issue your refund within 3 days.)
Goods returned after 30 days will not be entitled to a full refund. (This period is counted from the day the original order is delivered to you, to the day the item is shipped back to us.) Items returned without authorisation after 30 days may not be accepted and may be returned to you at your own expense. If in doubt, please phone or email for advice before returning an item to us.
If any goods are returned to us dirty or damaged, we will be unable to refund the full purchase price and a cleaning fee of $20 will be applied.
FAULTY PRODUCTS
If you feel that a product is faulty, please stop using it immediately and email us with your concern. If you are able to take digital photos of the problem please send them with the email. If you continue to use the product after discovering a fault, it will be deemed that you have accepted the goods in their damaged condition.
If we find the goods to be defective, we will send you a replacement. We reserve the right to seek the opinion of the manufacturer of the goods or another knowledgeable party, prior to a decision being made, if it is not clear that the goods are faulty or have been damaged due to misuse or neglect. We will do our best to rectify the matter as quickly as possible.
USED/SECOND-HAND BOOTS
Please note: We cannot be held responsible for any problems that may occur with any second-hand hoof boots purchased from us. As the boots have previously been used, and due to the unpredictable nature of horses, it is possible for damage to have occurred to the boots (normally by the horse treading or overreaching). This may mean that parts, for example, stitching and/or material, will snap/ tear/ break under severe duress, which is not a fault of the product.
We are unable to offer exchange or refund for second-hand hoof boots purchased from us that are the wrong size or unsuitable.