Performance Jogging Shoe
The Equine Fusion Performance Jogging Shoe provides comfort and protects the hoof from sharp stones and excessive wear. It supports natural hoof mechanism and aids in the rehabilitation of hoof issues. They are the ONLY make of boots on the market that eliminate peripheral loading through their unique, flexible sole – making them the most natural option for your horse.


FEATURES
New and improved locking system
Water resistant fabrics and straps
Slim fit design – less weight and closer fit to hoof
New sole design – better grip off-road and in tough terrain
Lightweight and machine washable
Reflective detailing for low light conditions
Blue/black color option
Sizes 10-15
PRICE
SALE: $140 (US) / $175 (CAN) per pair. The Performance boot has been replaced by the All Terrain so we are selling off our remaining stock at 35% off (regular price $215 US / $260 CAN).
If you would rather not use Paypal please call and we will take your payment over the phone: 250-900-6761 (PST).
UNITED STATES ORDERS: Please use this section. Shipping is $20 per order. Zip code required.
CANADIAN ORDERS: Please use this section. Shipping is $15. Postcode required.
ACCESSORIES:
Dampening Pads: $20 (pair)
Felt Pads: $20 (pair)
Stud Kit: $40 (pair)

Velcro Cleaning Brush: $7

ACCESSORIES:
Dampening Pads: $24 (pair)
Felt Pads: $24 (pair)
Stud Kit: $48 (pair)

Velcro Cleaning Brush: $9

Click on images below for larger views of each photo.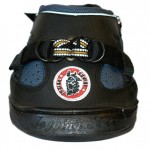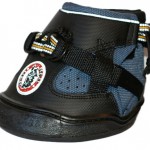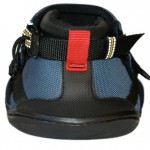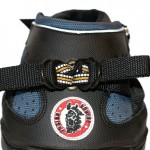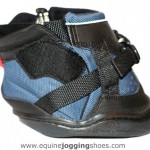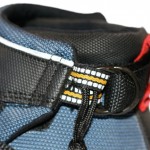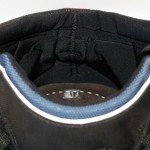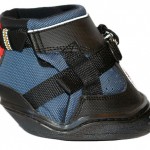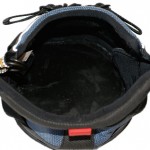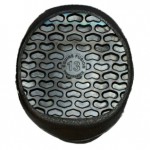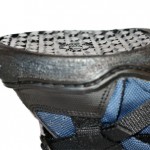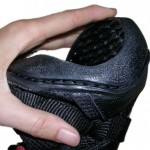 DETAILS
The Performance jogging shoe uppers are made of a water-resistant, breathable and comfortable material, that allows the joints to function without hinderance. They are a slimmer fit than the Ultras.
The sole is fully flexible which allows the horse to feel the contours of the ground for more stability and also allows for full hoof mechanism. It has a uniform tread pattern that has been specifically designed for off-road riding and gives improved grip in deep mud and snow.
They are secured by velcro fastenings on either side of the boot and have the same top strap as the Ultras which ensures a snug fit around the pastern. The front strap has been divided into two so that each side of the shoe can be tightened independently.
They have a reflective strip around the top of the shoe as well as on the logo and loops which provide high visibility in low light conditions.
The Equine Fusion Performance Horse Shoe is best suited as performance boot/shoe for riding. For therapy/rehab boots, the Ultra Shoe is a better option as it provides more support.
Be sure to measure carefully before ordering. If you need help please contact us for assistance.
ACCESSORIES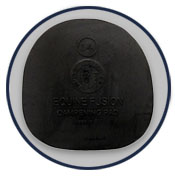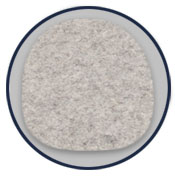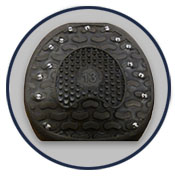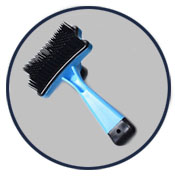 Dampening Pads for added sole cushioning.
Felt Pads for comfort and wicking properties in rehab situations or to help stabilize boots on trickier to fit hooves.
Stud Kit for extra traction.
Velcro Cleaning Brush to keep your velcro in tip-top condition.


Return from Performance Jogging Shoe to the home page